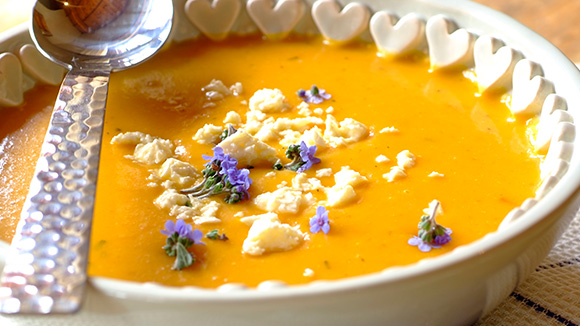 Butternut Squash Soup
Butternut Squash Soup is a great starter if you're entertaining guests. It's easy to make, but looks really impressive, especially with a swirl of cream on top. Serve with home-made bread or Olive Bread – the bitterness of the olives contrasts well with the creamy sweetness of the soup.
Recipe serves:

4

Preparation Time

10 min

Cooking Time

30 min
Ingredients
1tbsp olive oil
1 onion, peeled and diced
1 medium butternut squash peeled, deseeded and cut into wedges
1 small potato, peeled and quartered
2 garlic cloves, peeled and crushed
A pinch of dried chilli flakes (optional)
Freshly ground black pepper
1l water
1 Knorr Vegetable Stock Cubes
A few parsley sprigs to serve
50ml double cream to swirl
Method
Heat the olive oil in a large pan and place over a low heat. Add the onion and cook for 1–2 minutes.
Add the butternut squash and potato and cook for 5 minutes over a medium heat. Add the garlic and chilli flakes, and season with pepper to taste. Pour in the water and add the stock cubes. Simmer for 25 minutes.
Using a hand-blender or food processor, blend until smooth, adding more water if it's a little thick.
Serve sprinkled with parsley and a swirl of cream.
Soup is a great starter if you're entertaining guests. It's easy to make, but looks really impressive, especially with a swirl of cream on top. Serve with home-made bread or Olive Bread – the bitterness of the olives contrasts well with the creamy sweetness of the soup."/>
TRY OUR CHEF'S NEWEST RECIPES