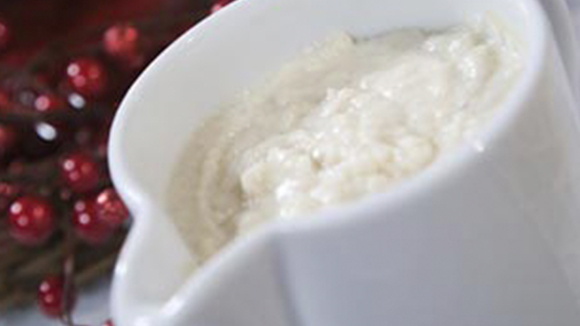 Bread Sauce
All you need to make bread sauce is breadcrumbs, milk, cloves, onion, butter, nutmeg and the secret ingredient – Knorr Chicken Stock Pot. You don't want it too wet; don't forget it's a bread sauce. Use my method – it's almost foolproof!
Recipe serves:

10

Preparation Time

15 min

Cooking Time

10 min
Ingredients
600ml semi-skimmed milk
1 fresh bay leaf
1 onion, peeled
A few cloves
A pinch of nutmeg
15g butter
1 Knorr Chicken Stock Pot
200g white 'day old' breadcrumbs, finely processed
Method
Place the milk in a pan. Cut the onion in half and use the cloves to secure a bay leaf to it. Add that to the pan.
Add the butter, a pinch of nutmeg and the Knorr Chicken Stock Pot to the pan, and stir it all in. Bring the pan to the boil.
Take out the onion and stir in the 'day old' breadcrumbs. Cook slowly for 5–6 minutes to thicken the sauce and then pour it into a serving jug.
Cover the jug with cling film and keep somewhere warm until it's time to serve.
Tip: However much sauce you make, stick to a 3:1 ratio. For example, 3 times the amount of milk to 1 times the volume of breadcrumbs, so 600ml milk and 200g of breadcrumbs as used here. Nice and simple!, Healthy Tips: Use wholemeal breadcrumbs rather than white breadcrumbs. Try Flora Buttery rather than butter.
The perfect recipe for making use of stale bread! You can freeze the bread sauce if you don't want to use it straight away. Just defrost it in the fridge and heat thoroughly when you want to use it. For lots more hints and tips to help you make the most of your food, visit www.lovefoodhatewaste.com
TRY OUR CHEF'S NEWEST RECIPES