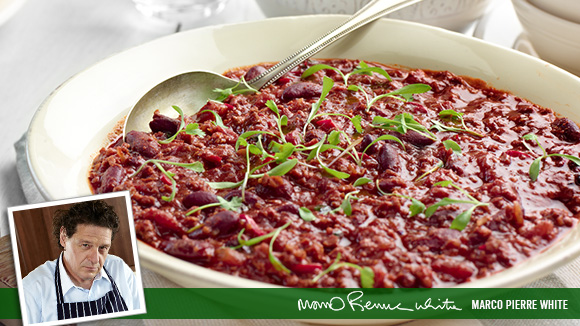 Chilli Con Carne
This is very simple to make. First fry the mince for a good 15 minutes. Then mix in spices, my home-made tomato sauce, water and – my secret ingredient – two Knorr Rich Beef Stock Pots. Simmer gently for an hour. Mix in kidney beans, gently heat through and there you have my Chilli Con Carne.
Recipe serves:

10

Preparation Time

20 min

Cooking Time

90 min
Ingredients
2tbsps olive oil
1kg lean, finely minced beef
A pinch of paprika
A pinch of cayenne pepper
A pinch of ground cumin
1l Marco's foolproof tomato sauce
500ml water
2 Knorr Rich Beef Stock Pots
2 x 400g tins of kidney beans in water, drained and rinsed
1 handful of roughly chopped fresh coriander
2–3 mild red chillies, chopped
25g dark chocolate (70% cocoa content), chopped
Fresh coriander sprigs
Method
Heat olive oil in a large frying pan. Add in the olive oil and heat through.
Add in the minced beef and fry, stirring to break down any lumps – there's nothing worse than finding big lumps of mince – until well browned, around 15 minutes. Season the browned mince with paprika, cayenne and cumin, mixing in and frying for 2–3 minutes.
Transfer the browned mince from the frying pan to a casserole dish over a medium heat. Add in the tomato sauce and water and stir to mix together.
Add in the Knorr Rich Beef Stock Pots and simmer, stirring, until dissolved.
Bring to the boil, cover and simmer for 50 minutes to 1 hour, stirring now and then. Add in the drained, rinsed kidney beans, mix in and cook for 5 minutes to heat.
Stir in the chopped red chilli, coriander and dark chocolate. Garnish with fresh coriander sprigs and serve. It's fantastic with baked potatoes and soured cream, or with rice.
TRY OUR CHEF'S NEWEST RECIPES