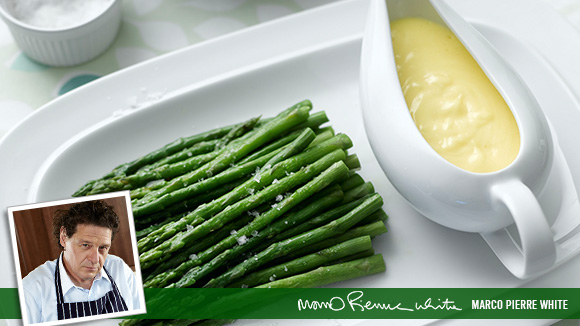 Asparagus with Hollandaise
Hollandaise sauce is one of those great classics that not many people do at home. They think it's difficult. The classic way involves dribbling the butter very slowly, whisking it to a 'sabayon', while hoping it doesn't curdle. You don't have to worry about that. My method is foolproof.
Recipe serves:

12

Preparation Time

5 min

Cooking Time

15 min
Ingredients
4 egg yolks
50–75ml white wine vinegar
Knorr Aromat Seasoning
400g clarified butter
Method
Heat a pan of hot water to a gentle simmer. Put the butter, egg yolks and, finally, the white wine vinegar in a Pyrex or stainless steel bowl over hot water and start whisking it together. The bowl shouldn't touch the water beneath it. Season with Knorr Aromat.
Keep on whisking until it gets to the consistency you want – this will take about 5 minutes. When the whisk leaves a 'trail' in the sauce, that's when you know it's cooked.
Check the seasoning, then keep it somewhere warm while the asparagus cooks.
To cook the asparagus, bring a pan of water to a rapid boil, then add a drop of olive oil or clarified butter. Whisk in a Knorr Vegetable Stock Pot to season. Cook the asparagus in the seasoned water, about two to three minutes. English asparagus is best when it's available. The fine 'pencil' type doesn't need peeling and only takes 2 minutes to cook. Lift the asparagus from the water – don't drain them – and serve with the hollandaise sauce on the side or poured over the top. Finish with a little sea salt.
Hollandaise sauce is great served with poached eggs and salmon, bacon or ham on toast as a tasty light meal. Or why not use fresh steamed broccoli florets instead of asparagus? Simply delicious. For lots more hints and tips to help you make the most of your food, visit www.lovefoodhatewaste.com
TRY OUR CHEF'S NEWEST RECIPES