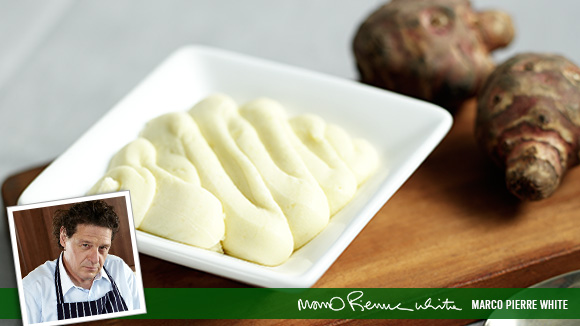 Jerusalem Artichoke Puree
Jerusalem artichokes discolour very quickly once peeled. So how do you stop this? Simple; just add a little lemon juice or vinegar to water and drop in the Jerusalem artichokes as soon as you've peeled them.
Recipe serves:

4

Preparation Time

10 min

Cooking Time

15 min
Ingredients
500g Jerusalem artichokes, peeled and chopped into small cubes
Juice of ½ a lemon
25g butter
50–80ml water
1 Knorr Reduced Salt Vegetable Stock Cube
Method
First, add half the lemon juice to a pan of cold water.
Peel the Jerusalem artichokes and, as you do so, place them in the pan of cold water with lemon juice to stop them discolouring.
Cut the peeled Jerusalem artichokes into small, even-sized chunks. Place the chunks in a large Pyrex bowl and toss with the remaining lemon juice.
Add in half the butter and the water. Cover with cling film.
Place the covered bowl in a microwave and cook on HIGH (900 watts) for 10 minutes, until the Jerusalem artichokes are tender. See how simple this recipe is!
Drain the Jerusalem artichokes in a sieve or colander, reserving the cooking liquid.
Place the Jerusalem artichoke and remaining butter in a food processor. Crumble in the Knorr Reduced Salt Vegetable Stock Cube to season the Jerusalem artichokes; it gives a very nice flavour.
Blend into a smooth puree, adding a little of the reserved cooking liquid or a little boiling water if needed. Transfer to a dish and serve. This tasty puree would be very good indeed with a rich hearty stew, such as my Beef and Guinness Stew.
If you have half a lemon left over, you can store it in the freezer so it doesn't go off. It won't take long to defrost and it will juice really easily! For lots more hints and tips to help you make the most of your food visit www.lovefoodhatewaste.com
TRY OUR CHEF'S NEWEST RECIPES