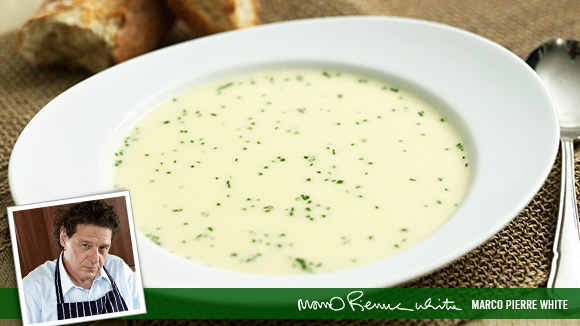 Leek and Potato Soup
For a weekday meal, simply serve this soup chunky – don't pass it through a sieve – with a piece of crusty bread. In France (where they call it vichyssoise) they serve this leek and potato soup recipe hot or cold. I must admit that on a summer's day it is very good served cold.
Recipe serves:

4

Preparation Time

20 min

Cooking Time

25 min
Ingredients
900ml chicken stock made with 1 Knorr Chicken Stock Pot,
25g butter,
1 small onion, peeled and finely chopped,
400g leeks, finely chopped,
1 small potato, peeled and finely chopped,
150ml double cream or single cream or half-fat crème fraîche,
1–2tbsp very finely chopped chives
Method
Place the chicken stock in a large pan and bring to a gentle simmer.
Melt the butter in a separate, large, heavy saucepan. Add in the onion, leek and potato and cook over a high heat for 10 minutes, stirring constantly so that the vegetables sweat, that is cook without colouring. The reason I do this is that I want to drive out the moisture from the vegetables and so bring out their flavour
Bring the simmering stock to the boil. Add the boiling stock to the sweated vegetables and bring to the boil. Cover and cook over a medium heat for 12 minutes. Add in the double cream and cook for 2 minutes. For a more everyday version or if you're watching calories, then use single cream or half-fat crème fraîche and heat through gently without bringing to the boil.
At this point, I like to sieve my soup to make it silky smooth, but it's your choice as you can simply serve it as it is. Using a ladle, transfer the soup to a jug blender or food processor and blitz until smooth, doing this in a few stages if needed.
Pour the blitzed soup into a fine sieve over a large serving bowl and use the ladle to press the soup through the sieve, again doing this in a few stages if needed.
Sprinkle the chives over the soup, mix in and ladle into soup bowls to serve.
For a variation on this recipe, try my Leek and Potato Soup with Smoked Haddock.
Making a Soup is such a wonderful way to use up any leftover veg. Why not combine whatever veg you have in a saucepan with a Knorr Vegetable Stock Cube and some boiling water, bring up to the boil and simmer until the veg is cooked. Then liquidise in a blender or serve straight away as a chunky soup. Season to taste with pepper and serve with some crusty bread . For lots more hints and tips to help you to make the most of your food visit www.lovefoodhatewaste.com
TRY OUR CHEF'S NEWEST RECIPES