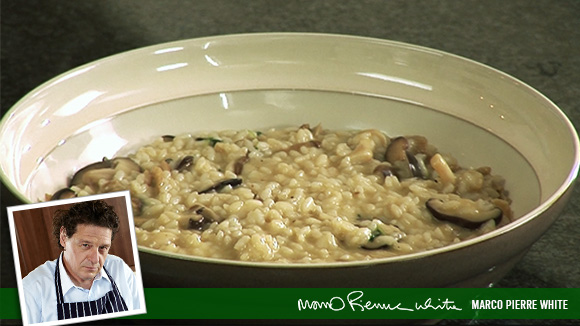 Wild Mushroom Risotto
I prefer wild mushrooms in this mushroom risotto recipe, but you can use other mushrooms. The supermarkets have some terrific varieties these days. If you're picking your own wild mushrooms, make sure you know what you're doing.
Recipe serves:

2

Preparation Time

20 min

Cooking Time

20 min
Ingredients
2tbsps olive oil,
¼ onion, sliced,
160g risotto rice,
A splash of dry white wine,
500ml of chicken stock made with a Knorr Chicken Stock Cube,
200g of wild mushrooms, cleaned,
1tbsp chopped fresh herbs - thyme, rosemary, parsley or chives (not basil),
Truffle oil, to taste,
5-10g Parmesan cheese, grated,
Fresh thyme to garnish
Method
Heat half the oil in a heavy-based saucepan and lightly sweat the onion, but don't let it colour.
Add the rice and a splash of white wine.
Pour in enough of the stock to cover the rice. Keep working the risotto. This allows the risotto to absorb the stock and intensifies the flavour. Gradually add more stock as the liquid is absorbed.
Finely chop the mushrooms, but not too small or fine. You want them to cook evenly.
Heat the remaining tablespoon of oil in a separate pan and add the mushrooms. Keep one eye on the mushrooms and the other on the risotto.
Keep stirring the stock, keep stirring the risotto.
Add the fresh herbs – whatever you've got, whatever you like (not basil though, as it's not a natural combination).
Add some truffle oil to the mushrooms if you wish; it can add a more intense flavour to the risotto.
Stir the mushrooms into the risotto and serve with some Parmesan and a sprig of thyme, but again they're optional. Your risotto is ready.
If you have a little wine left over try freezing it in an ice cube tray; it's perfect for using in recipes like this one where you only need a splash. For lots more hints and tips to help you to make the most of your food, visit www.lovefoodhatewaste.com
TRY OUR CHEF'S NEWEST RECIPES