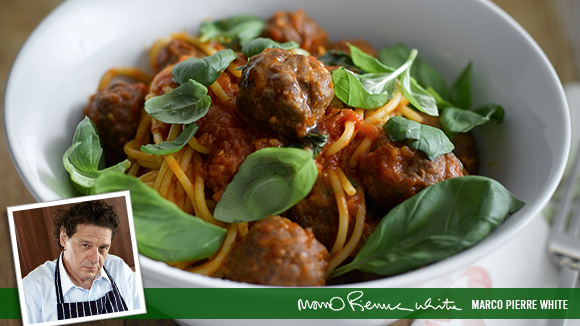 Spaghetti with Meatballs
Ever since I was a boy, spaghetti and meatballs has been one of my favourite dinners. It's based on a classic Italian pomodoro (tomato sauce), which you can see me make on this site. Make the meatballs a few hours in advance to give time for the garlic to infuse and for the meatballs to set.
Recipe serves:

6

Preparation Time

40 min

Cooking Time

20 min
Ingredients
½ batch tomato sauce (500ml)
350–500g spaghetti
1 Knorr Vegetable Stock Pot
500g lean minced beef
1 egg
1 slice of bread
2 cloves of garlic, crushed
A handful of fresh basil leaves
Milk for soaking
Knorr Aromat Seasoning
Flour for dusting
Olive oil
Method
Soak a slice of bread in milk. Squeeze the milk out of the bread, and add the bread to the beef mince with two cloves of crushed garlic and an egg. Season with Knorr Aromat. (For even lighter meatballs, try using half chicken and half beef as they do in Italy). Mix everything together using your hands.
Roll the mixture into small balls (approximately 24 from 500g of minced beef), then lightly dust each one with flour.
Heat some olive oil in a frying pan. Add the meatballs, browning them lightly and turning them as you go.
Meanwhile, bring a large pan of water to the boil for the pasta, seasoning the water with a Knorr Vegetable Stock Pot and a splash of olive oil. Add the spaghetti. Plan to cook the spaghetti a minute less than is needed as it will have its last minute of cooking time in the sauce at the end.
When the spaghetti has another 5 minutes to go, bring the tomato sauce up to temperature and add the meatballs to finish cooking them in the hot sauce. Throw in a generous amount of fresh basil just before serving.
Drain the pasta. Cover it with my pomodoro tomato sauce, spooning the meatballs over the top.
Why not save any leftover for lunch the next day? Pop it in a lunchbox and store it in the fridge until required. It won't go to waste and will save you time and money. For lots more hints and tips to help you make the most of your food, visit www.lovefoodhatewaste.com
TRY OUR CHEF'S NEWEST RECIPES