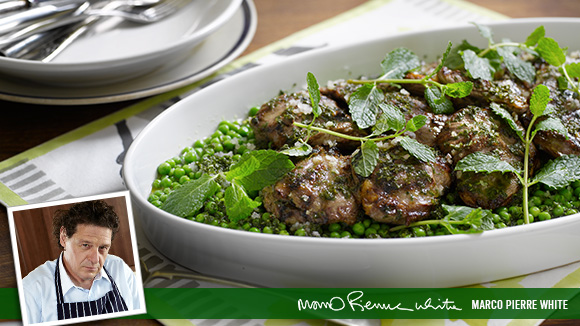 Rump of Lamb with Mint Sauce
In summertime I like my food to be simple and light. This dish can be cooked on the barbecue or indoors. It's my take on a classic roast lamb Sunday lunch, turned into the perfect meal for a sunny day when you don't want to spend ages in a hot kitchen.
Recipe serves:

8

Preparation Time

15 min

Cooking Time

8 min
Ingredients
1 Knorr Lamb or Chicken Stock Cube
1tbsp olive oil
1–2tsps finely chopped fresh thyme
8 thin lamb rump steaks
400g peas, either fresh, shelled peas or frozen, boiled until just tender, drained and cooled
1 shallot, finely chopped
Mint Sauce:
150g caster sugar
150ml white wine vinegar
15g pack fresh mint
Method
First prepare the mint sauce. Place the sugar and vinegar in a small, non-corrosive pan, bring to the boil and cook until clear. Set aside and allow to cool.
Reserve 6 mint sprigs for the garnish. Pick the remaining mint leaves off the stalks, and blanch for ten seconds in a pan of boiling water. Refresh at once in very cold water, squeeze out excess water and set aside until required.
Set 2 large, heavy griddle pans and pre-heat until very hot. When I say very hot, I mean it!
Make a seasoning paste by dissolving the Knorr Lamb/Chicken Stock Cube in the olive oil and mixing in the chopped thyme. Using a Knorr Stock Cube gives the meat extra depth of flavour.
Massage the seasoning paste evenly over both sides of the lamb steaks. Then place them on the pre-heated griddle pans.
Cook for one minute on one side, then turn and cook on the other side for one more minute (for a pink colour). Cook for 1½ minutes either side for medium cooked.
Meanwhile, finely chop the blanched mint leaves and mix into the vinegar syrup to make the mint sauce.
Place the cooked peas in a large serving dish and toss through ⅔ of the chopped shallot. Then place the freshly griddled lamb steaks on top of the peas. Spoon the mint sauce over.
Garnish with the reserved sprigs of fresh mint, top with a little more olive oil if desired, sprinkle over the remaining chopped shallot and serve at once. Really, nothing could be simpler.
If you have shallots left over and you don't think you'll get around to eating them before they go off, try chopping them and storing them in a bag or container in the freezer. It'll save you time next time a recipe calls for chopped shallots or onions. For lots more hints and tips to help you make the most of your food, visit www.lovefoodhatewaste.com
TRY OUR CHEF'S NEWEST RECIPES