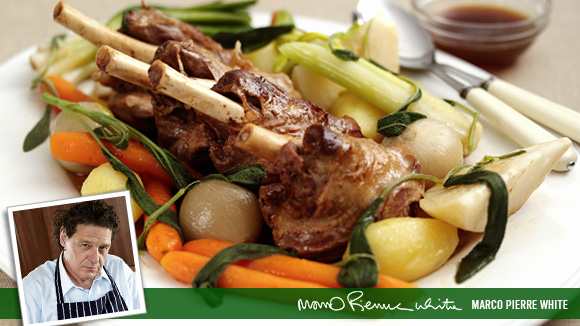 Lamb Shanks Stockpot
This is a very easy recipe using lamb shanks, which I simmer slowly until the meat is so tender it's falling off the bone. You can cook the lamb a day or so before, so all you have left to do is warm up the lamb and cook the vegetables. You can't go wrong.
Recipe serves:

4

Preparation Time

20 min

Cooking Time

180 min
Ingredients
8 small or 4 large (350g) lamb shanks
1 Knorr Chicken Stock Pot
2–3tbsps tomato paste
30ml dark soy sauce or reduced salt soy sauce
2–3tbsps olive oil
Quarter of a celeriac or swede, peeled and cut into large wedges
4 onions, peeled and left whole
8–9 carrots, peeled and left whole
4 small Maris Piper potatoes, peeled and left whole
1 Knorr Vegetable Stock Pot
16 baby leeks or 4 leeks, cut into 5cm lengths
1 celery heart
4–5 sprigs of sage
Method
Place the lamb shanks in a large, heavy-based casserole dish. Add in the Knorr Chicken Stock Pot, 1.5 litres of water, tomato paste, soy sauce and olive oil.
Slowly bring the lamb shanks to the boil on top of the stove, then simmer very slowly and gently uncovered for 2 hours 45 minutes to 3 hours. If you'd rather cook it in the oven, bring it to the boil on top of the stove then cover and transfer to a preheated oven at 150°C, Gas Mark 2 and cook it in the oven for 2 hours 45 minutes to 3 hours. To tell when the lamb shanks are ready have a look at my simple tip.
After about 2 hours 30 mins (or half an hour before the lamb shanks have finished cooking), cook the vegetables. Place the celeriac or swede, onions, carrots and potatoes in a large saucepan. Add in the Knorr Vegetable Stock Pot and enough cold water to cover the vegetables, bring to the boil and cook at a rolling boil uncovered over a medium heat. Ten minutes later, add in the baby leeks and celery heart and cook until all the vegetables are tender; around 20-25 minutes in all. Add in the sage sprigs right at the end of the cooking time.
Before serving, carefully skim any fat off the surface of the Lamb Shanks Stockpot. Using a slotted spoon, remove the lamb shanks from the casserole dish and arrange them on a large serving platter. Using a slotted spoon, remove the cooked vegetables from the pan and carefully arrange them around the lamb shanks, then top with the sage sprigs. Spoon over a little of the broth and serve.
To make a delicious bubble and squeak, lightly mash any leftover veg, dice roast potatoes, and blend with an egg. Shallow fry little mounds in hot oil, turning till golden and crisp on both sides. Serve with leftover meat and gravy. For lots more hints and tips to help you make the most of your food, visit www.lovefoodhatewaste.com
TRY OUR CHEF'S NEWEST RECIPES