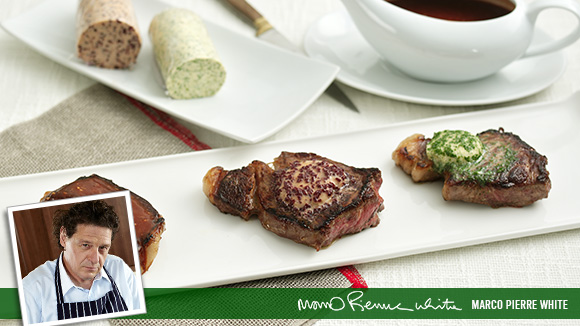 Steak with Flavoured Butter
I've given you two recipes for flavoured butters: one with red wine and shallots, the other with parsley. You don't just have to use them on steaks, either; try them on chops, chicken breasts or fish.
Recipe serves:

2

Preparation Time

20 min

Cooking Time

20 min
Ingredients
Bordelaise (Red Wine and Shallot) Butter
(makes 250g Bordelaise butter):
4tbsps very finely chopped shallots
50ml ruby port
100–150ml red wine
250g butter, softened
1tsp Knorr Touch of Taste Beef
Parsley butter
(makes 250g parsley butter):
250g butter, softened
2 heaped tbsps finely chopped parsley
2tsps of Knorr Touch of Taste Beef
Steak:
1 Knorr Beef Stock Cube
Olive oil for paste and for shallow frying
2 steaks
Method
Both these recipes for flavoured butters use softened butter. The easiest way to soften butter, I think, is to take it out of the fridge overnight and leave it to soften naturally. If you forget to do this, then you can always pop the butter in the microwave. Take care though not to melt it; you just want to soften it.
First make the Bordelaise butter. Place the chopped shallot, port and red wine in a small pan. For extra flavour, you can do this the night before and leave the mixture overnight to marinade. Bring to the boil and cook, stirring often, so that the liquid evaporates, leaving a syrupy mixture just coating the shallot, but doesn't burn. Set aside to cool.
Now place the softened butter in a mixing bowl and mix well with a wooden spoon to further soften it. Add in the Knorr Beef Touch of Taste, mixing in well. Stir in the cooled shallot mixture and mix in thoroughly.
Spread out a large square of cling film on a work surface. Spoon the butter mixture in a line in the centre of the cling film and bring it up over the butter, wrapping it up. Use your hands to roll the butter tightly in the cling film, shaping it into a neat cylinder.
Place the wrapped butter in the fridge for a few hours to allow the butter to firm up. You can make this butter ahead and store in the fridge or the freezer. This recipe gives you eight portions.
Now make the parsley butter. Place the softened butter in a mixing bowl and mix well with a wooden spoon to further soften it. Add in the parsley and mix in thoroughly. I've used parsley, but you could use tarragon or basil, whichever herb you like. Add in the Touch of Taste and mix well. What the Touch of Taste does to this butter is give a very nice meaty taste.
To cook your steaks, you first need to season them. Rather than salt, I prefer to season my steaks with a paste made from a Knorr Beef Stock Cube. Why do I do this? I think it tastes better and it helps the meat caramelise. Try my Marco Steak Challenge and see for yourself. Rub the Knorr Beef Stock Cube into a little olive oil, mixing together so that the cube thoroughly dissolves into the oil and makes a paste. Massage this paste into the steaks on both sides, spreading evenly.
Heat a large, heavy frying pan until hot. Add a dash of olive oil to the hot pan and allow to heat through briefly. Add in your Knorr seasoned steaks and fry. Once they've browned nicely on one side, turn them over to brown the other side. As you fry them, make sure you baste them with the frying fat to keep them moist. Fry them until they're cooked to your taste. Most people like their steaks rare to medium-rare. Once you see the blood start to pierce the surface, then you know that they are rare to medium-rare. This is the simplest way to tell that they're ready.
While the steaks are frying, pre-heat your grill to its highest second. Cut two nice thick slices from your flavoured butter, discarding the cling film from your slices. Transfer the pan-fried steaks onto a heatproof dish or baking sheet, top each steak with a slice of flavoured butter and place under the grill. Keep an eye on the steaks and grill until the butter has just half-melted. You want a nice piece of butter on top of the steak, with some melted butter. Serve at once. No technical ability required, just a few simple steps and some care and attention.
The perfect way to create a really tasty meal from things you've probably already got in your fridge or storecupboard. For lots more hints and tips to help you make the most of your food, visit www.lovefoodhatewaste.com
TRY OUR CHEF'S NEWEST RECIPES